Many cars were restored in the seventies and eighties. As time goes on, it is natural that these cars will need repairs to keep them in good running condition. As a result repair work is a growing part of our business at Mechanical Restoration Services.
We offer all types of repairs on antique and classic cars. We are a logical choice because we work exclusively on older vehicles. Whether you need brake work or have an engine noise you do not like, we can handle the job. We even have a computer engine simulation program to accurately predict power changes for modifications to performance engines.
Many people are reluctant to have their classic cars worked on during the summer months for fear of losing too much time. After all, we only have a limited number of weekends to enjoy driving our vehicles. Therefore, we make every effort to do repair work as quickly as possible. Please contact us to arrange a time for any work you would like to have done.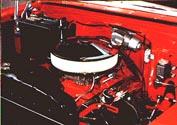 325 HP Computer Designed Engine
Click here for a closer look